Digger is a music rating and retrieval app for your music collection. Digger helps you enjoy the music you own.
| Music rental: | Music ownership: |
| --- | --- |
| All you can eat buffet | Pay as you go |
| Musicians get a tiny fraction | Musicians get a percentage |
| Regional restrictions | Listen wherever |
| Licensing expires | Always yours |
| Suggested songs | Digger retrieval |
Digger makes it easy to rate songs so they can be fetched appropriately in a wide range of situations. When you are playing music, Digger works like an automatic playlist, fetching and playing songs matching your listening context. Digger helps you get back into your music collection by selecting good music you haven't played in a while.
There is no substitute for what you feel. Digger makes it easy to capture your impressions as you listen, linking what you feel with the music in your collection. Personal music retrieval becomes more powerful With every song you rate. Sync your music across multiple devices through DiggerHub.
Hub Connect
If you listen to music on more than one device, or if you want to collaborate on music with friends with other music fans using Digger, you can sign in on DiggerHub in the app to keep your ratings in sync and collaborate with others.
This song is fantastic!
Click the Digger "share" button to copy the song Title, Artist, Album, Keywords, Approachability and Energy Level, along with your saved personal comment. Send that to anyone any way you like, sharing great music improves anyone's day and helps them get to know you better.
Collaboration
Your impressions let you easily collaborate with friends and fellow music fans whose tastes you trust. Under the "fans" section of your profile, you'll find these interactive displays:
Connect
Find friends and music fans by their Digger name. If you haven't added any friends yet, and you want to get a feel for how things work, you can click "Connect Me" to add whoever the hub picks for you.
Match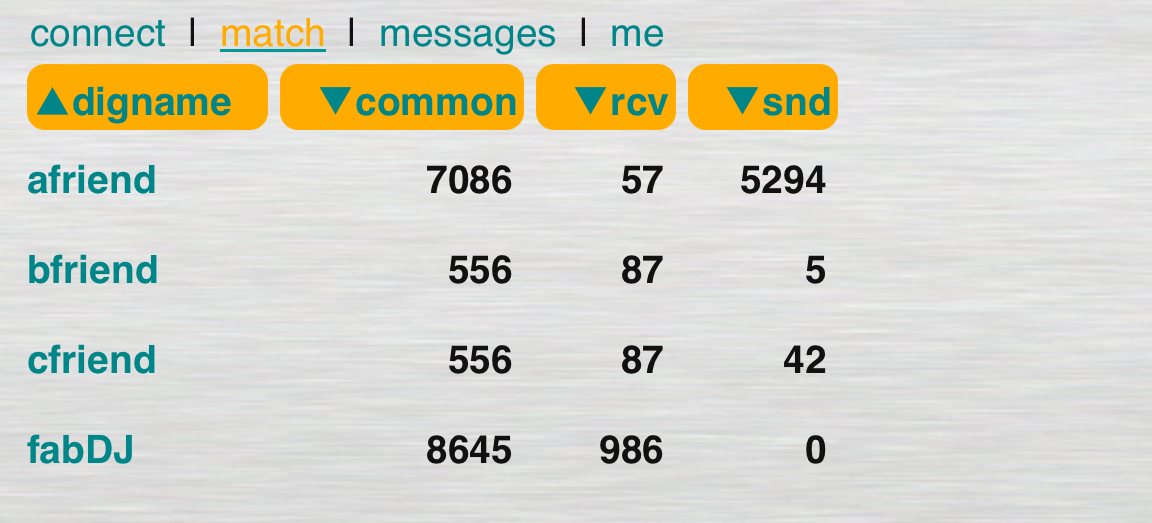 See how much music you have in common. If you have songs in your collection that you haven't rated yet, your friends provide default rating information you can use for contextual retrieval. The "rcv" tab shows how many default ratings you've received. The "snd" tab shows how many default ratings they have received from you. If you remove a friend, their default ratings are also removed. When you play a song, any default rating information for that song becomes yours.
Messages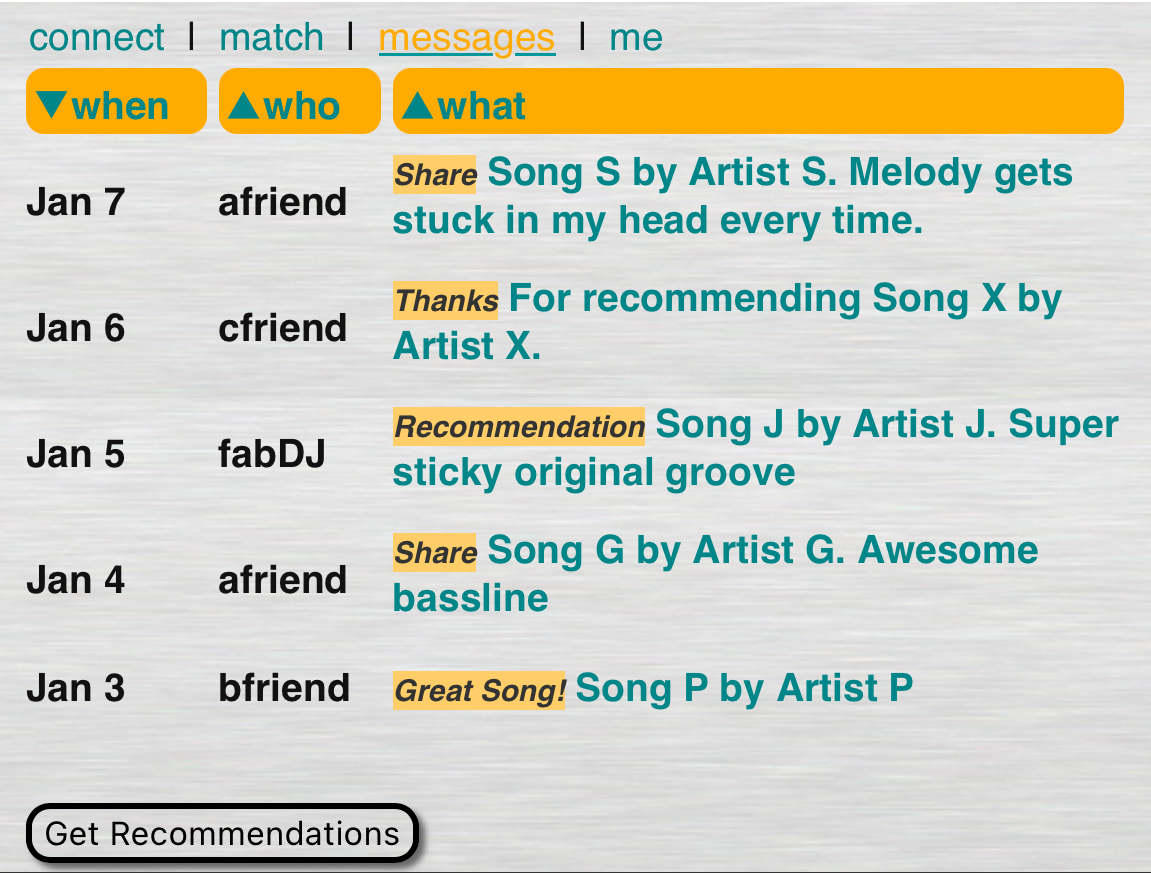 See what your friends have shared recently and get automatic recommendations from your friends that match your current listening parameters.
It's called Digger because it digs through the stacks in your library (oldest first) pulling music across multiple artists matching what you want to hear.